Three times. Three times I postponed my
Balloon Fiesta
retreat due to the pandemic. I had it planned, reservations made, collected deposits, and sold out spots, only to cancel, push out the date, and try again. And again, and again. The sheer grit and determination required to make this dream come true were so worth it.
Anderson Balloon Museum, ABQ, NM
I learned that you genuinely don't know how committed you are to a dream unless you are challenged. Whether that dream is a new job, fixing a broken relationship, finding a new relationship, getting healthy, writing a book, starting a business, or buying/selling a home. If you want it bad enough, you'll make it happen; if you don't, you'll make excuses.
I made it happen.
Beth & Starlight, Tamaya Stables
And so, ten phenomenal women embarked upon a journey of self-discovery and adventure. While we came from different backgrounds at pivot points in our lives, we also found much in common. At the core, we want to live our most authentic selves, be in love with our lives, and step into a new chapter by our design!
Magic Art, Santa Fe, NM
Oh, there was fantastic food, belly laughter, tender tears, and deep sharing. There was serene hot tubbing at
Ten Thousand Waves
and equine coaching at
Tamaya Stables
, with breakthroughs and transformation, abound. There was an early morning – early 4 am – drive to the Albuquerque Balloon Fiesta, making it through brutal traffic. And VIP treatment at the top level of the
Anderson Balloon Museum
with a bird's eye view of the balloons against a brilliant blue sky and the Sandias.  We walked the
Labyrinth at the Cathedral
and were inspired at the
Georgia O'Keeffe Museum
…and so much more!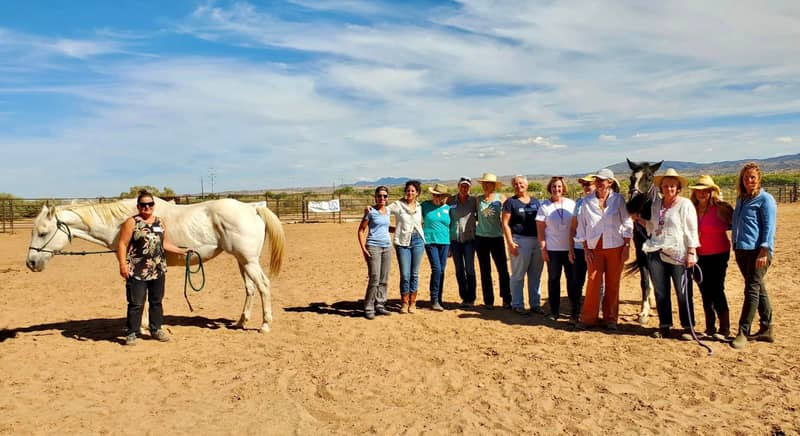 Tamaya Stables, Bernallilo, NM
But mostly, it was an honor to facilitate a group of amazing women, and provide a safe space for them to listen, speak, support, and care deeply for one another as their hearts cracked open and found the courage to give voice to their feelings and dreams – coming as strangers, leaving as sisters.
Izanami Restaurant, Santa Fe, NM
This is the beauty of my Vision Quests. Over the past six years alone, I've facilitated 15 women's retreats and workshops on the ground and virtually. If you are ready to expand, I encourage you to check out my future
vision quests and retreats.
You'll never be the same, and isn't that the point?
Is there a phase in your life that seems to be ending?
What is the call which you hear?
Will you go? What does it mean to go? and How will you begin?
A woman with a voice is, by definition, a strong woman. But the search to find that voice can be remarkably difficult ― Melinda Gate